In part 2 of this Mobile Marketing Series, let's examine the value of two mobile-based check-in platforms: Facebook and Foursquare. We'll take a look at how to properly set up your organization on these platforms and explore some creative ways to run check-in campaigns. Foursquare
As of December 2010, Foursquare reported over 5 million registered users worldwide. These users often use the platform to see what their friends are up to and discover nearby businesses and organizations that may interest them. Foursquare allows users to "check-in" via their mobile phones, collect points, let friends know where they are, and earn badges.
Foursquare Screenshot
Here's how to get your organization setup properly on Foursquare:
To register with Foursqaure, visit: http://www.foursquare.com/businesses.
Registering with Foursquare allows you to edit venue information, view analytics, activate and deactivate specials, and add employees.
One of the most valuable benefits to registering your organization is the ability for venue owners to view real-time stats like: total daily check-ins over time, your most recent visitors, your most frequent visitors, gender breakdown of your customers, what time of day people check in and the portion of your venue's check-ins that are broadcast to Twitter and Facebook
Bonus Tip: Just as with Google Places, your check-in campaign will be most effective if you ask customers to check-in. During the registration process, a business may request for Foursquare to mail them a free promotional sticker that invites users to check in.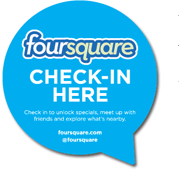 Make sure to claim your FREE sticker when you register!
Facebook Places
Another popular mobile check-in platform is Facebook Places. A recent Merchant Circle survey (the largest online network of local businesses owners) suggested that Places is gaining popularity over other check-in services like Foursquare and Gowalla.
Facebook Places Screenshot
Here's how your organization can get setup in Facebook Places:
To claim your Place, search for your business name on Facebook via the normal Search bar. If your business's Place already exists on Facebook, click on it to visit its page. At the bottom left side of your Place there will be a link that says "Is this your business?" Click on the link and you will be directed to a claiming flow.
By claiming your Facebook Place page, you can manage your place's address, contact information, business hours, profile picture, admins and other settings.
Facebook also allows you to merge this Place page with any existing Facebook Fan Pages you may have. To do this, visit a place that you have successfully claimed, and scroll to the "Merge with existing Page" link in the left side navigation menu. Click this link, and a prompt will appear to walk you through the process.
Bonus Trip: Facebook offers a fantastic resource on offering deals after you set up a Place page.
How Arts Orgs Are Using Check-In Platforms
Here are a few examples of how arts organizations are currently using check-in platforms:
Austin-based film and music festival South By Southwest decided to turn this process into a game. The festival's website lists what types of badges users can compete for. In addition to competing for badges, points are also awarded to users who check in at unusual places or at early hours of the morning.
The Whitney Museum recently partnered with FourSquare on creating a custom badge. Users who unlock this badge can present their smartphones to the front desk and redeem a $5 admission to the museum. This is a great example of how organizations can offer deals to customers.
Brooklyn Museum offers great incentives for customers who unlock the coveted 'Mayor' badge. Foursquare mayorships are awarded to customers with the most days checked into a venue over the last 60 days. If a customer is Mayor on their Target First Saturdays events, they can receive a 1st fans membership for one year. Brooklyn Museum's community page also utilizes FourSquare's API to show who has recently checked in, what badges their customers are unlocking, and who has obtained the title of 'Mayor'.
These types of services could also be used for arts events like gallery crawls or for arts organizations to partner with local restaurants. A gallery crawl could provide a similar type of adventurous environment where users could compete for special badges and earn points based on how many organizations they check-in with during the span of the crawl.
So what about your organization? Are you registered with location-based social media sites? If so, how are you using your presence there? (Please, share your thoughts and experiences in the comments area below.)
In the upcoming parts of this series, we'll take a look at QR Codes, SMS, and mobile app creation!