If they do indeed exist, the Greek and Roman Gods are bound to be upset. Century after century, they have been removed from their temples in Italy and Greece to be preserved, conserved, and admired in heathen lands. Even in Egypt, the rage of the pharaohs could only be an incandescent gold. But what must really infuriate these divinities and demigods is when they are looted, smuggled, and acquired illegally.
The looting of antiquities has always been the muddier undercurrent of archaeology but a recent development called WikiLoot may placate the immortal theoí, superi, and more importantly, the countries wrongfully bereft of their cultural heritage. As explained on the website, Chasing Aphrodite:
The idea behind WikiLoot is simple:

1. Create an open source web platform, or wiki, for the publication and analysis of a unique archive of primary source records and photographs documenting the illicit trade in looted antiquities.

2. Use social media and other tools to engage a broad network of contributors — experts, journalists, researchers, dilettantes and curious citizens — to collaborate in the analysis of that material.
The size of the black market for art is a shadowy number to guess, but the website states that the estimated size of "the illicit antiquities trade range from $200 million a year to $10 billion dollars a year." WikiLoot aims to help us understand the sprawling size and sly reach of this illegal market.
In the past two decades, investigation into the illegal smuggling of Classical antiquities out of Italy, Greece, and other countries has uncovered vast amounts of documentation into the specifics and details of looted artefacts: "The business records, journals, correspondence and photographs seized from looters and middlemen during those investigations comprise a unique record of the black market."
The problem is that most of this information is not available to the public as it "remains tangled in legal cases that are unlikely to end inconclusively." WikiLoot seeks to engage the public in tagging and analyzing antiquities found in these records and eventually become the leading dataset for stolen antiquities.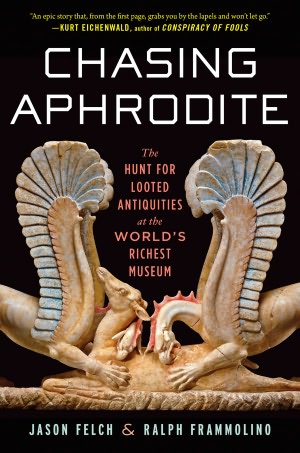 The project is spearheaded by Jason Felch and Ralph Frammolino, authors of Chasing Aphrodite: The Hunt for Looted Antiquities at the World's Richest Museum. Both of them have extensive experience in investigative reporting and were nominated for a Pulitzer Prize in Investigative Reporting in 2006 "for exposing the role of the J. Paul Getty Museum and other American museums in the black market for looted antiquities."
WikiLoot is still in the early stages of its development and various parties from different fields (legal, art historical, technological etc) are being involved:"we're consulting with open-source techies on the best way to structure the wiki; with lawyers about the legal issues involved; and with social media experts on on how to engage the broader public in the effort. "
It is certainly a crowdsourcing project to watch for, specially in light of Turkey declaring an acquisition war on museums possessing cultural objects it deems stolen. Before a cultural storm brews, we should appease to the Gods and their respective countries. Wikiloot can certainly get us started. Eventually it can help paint an accurate picture of the market for looted antiquities. A market that deals in form, size, and origin but is itself formless, vague, and of murky beginnings.
Update: Additional information can be found at http://chasingaphrodite.com/wikiloot/